Dear Alum
Please see below the announcement new discounted Early Bird Rates for IIT 2013 being held in Houston.
I am sure you know that this is being held under the leadership of Roopa Gir and Pratish Kanani of Roorkee, among other IITian leaders. Also, please do not forget to see the conference video, the link is at the bottom of this message.
Let us sign up in big numbers from Roorkee and feel free to reach out to any of us if you have any questions/ suggestions
Yours
Anoop
President, Executive Committee, IIT RAANA
email anoopkverma@gmail.com
cell 6307476750
---
From: Hemant Jha [mailto:hemant_jha@yahoo.com]
Sent: Friday, March 01, 2013 2:54 PM
Subject: IIT 2013 announces new discounted Early Bird Rates
 
As Chair of the IIT 2013 Registration and Outreach, I am contacting you to let you know about the new discounted early bird rates for PanIIT 2013 Conference. Can you forward the following message to all the IIT Roorkee alumni so that they can take advantage of the Early Bird Special II before April 30th.
 
Thanks for your co-operation and support. We want record participation from IIT Roorkee. Let me know if you need any additional information
 
Hemant Jha
Chair Registration & Outreach
IIT 2013 Global Conference Team.
281-451-6823 (Cell)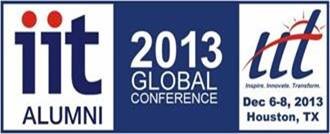 IIT 2013 GLOBAL CONFERENCE
The registration for IIT 2013 conference started strong with 325+ registrations in less than a month with our lowest Early Bird I Rates.
 
Click here to check the attendee list.
 
We urge you to register now to avail of the currently discounted rate.
Early Bird II Rates offered till April 30th or first 500 registrants.
ONLINE REGISTRATION IS NOW OPEN AT
http://iit2013.org/register-now/
 
 Register yourself and your family/friends
IIT 2013 Global Conference
Houston, TX USA; Dec 6-8, 2013
 Theme: Inspiring Innovation for Tomorrow
 
CONFERENCE PROMOTIONAL VIDEO
 
We are delighted to announce new discounted Early Bird Rates for online registration for IIT 2013 Global Conference at Houston, TX. We appreciate the efforts of IIT foundations and chapters in spreading the message amongst the alumni. The mission of this conference is to assemble the best and the brightest minds, including IIT alumni, at this global event to translate today's inspirations to tomorrow's innovations.
 
Our current early bird special registration package starts at $190/ person.  After completing your registration, make sure to spread the word amongst your friends and batchmates. This is a great opportunity to enjoy the conference at a good price and plan a reunion.
 
Prices will go up again after the current early bird special is over. Current rates are discounted approximately $100/person below the list price rates.
 
Refund Policy: You can cancel your registration up to Aug 31st, 2013 with 100% refund. Please click on the registration link above for details.
 
If you have question, reach us at outreach@iit2013.org.
For more information visit http://www.iit2013.org/.
 
Let's inspire innovation for tomorrow - see you in Houston!
 
Witty Bindra
Chairman
 
Hemant Jha
Chair - Registration & Outreach